WE want you to consider thinking outside the box of just a listing on our site. The team here at Wheel Estate is here to provide you with ideas and tools to help you have a successful rental and experience - every trip. If you have been following along we have brought you ideas for amping up your listing on our Wheel Estate web page AND we have talked about getting your trailer some personality.  WE have also touched on this idea of a website.....where you can really make it happen for you and your trailer's brand. Yes - you are a business and you and your trailer are a brand. So welcome to WordPress 101 - Marketing Your Wheels Off, Part 1.
First of all, why would it be beneficial to have a website for your trailer when you already have a listing on the Wheel Estate web page and WE do a ton of marketing for you? Good question! If you are serious about making money and treating this as a business, then all well thought out businesses have a marketing plan, budget and in today's modern world - a website. A stand alone website allows you to add more, do more, be more. It is your trailer's brand and that link can add some serious value to the personality of you and your trailer. It is another way to show your wheel wares, to show you are serious about business and to build a following for your brand / trailer.
And secondly, why WordPress.com? WordPress powers many websites all around the world. It is free, has a minimal learning curve and allows users to upgrade any time. WordPress is also very helpful with great customer service as well as thousands of help topics and advice in public forums.
For this post, WE are going to walk you through setting this up, choosing a theme (the look and feel) and a few ideas and steps to get you off the ground and wheeling and dealing. This is by no means a full how to, but WE hope that is stretches your imagination to dig deeper into this marketing concept and push past the standard of rentrepreneurship.
GETTING STARTED
1. Head to www.wordpress.com and click on the "Get Started" button. This will take you to the "Let's Create a Site" page.
2. Let's create your site. For the purposes of photos, WE have created a site for "That Seventies Tow" which happens to be a "WE" team member's trailer - a 1973 Travelaire in restoration mode. This is where you name your site so if your trailer has that personalized name we previously discussed, this is where it goes. Fill in the rest as requested and hit continue.
3. Choose your url handle (your domain name). WordPress.com is free for use so long as you don't mind using a url like this:  
www.thatseventiestow.wordpress.com
This is also where you can choose to upgrade and take one of the suggested domain names or create one for a small fee. Remember you can always start off free and upgrade later on if you want to.
4. This step allows you to choose how you wish to roll online. If you know what you are doing and want to go big, then by all means take on the bigger and better plans. Again, you can do that any time in the future, so why not start fee and see where this goes?
5. Congratulations! Your site is now live! Onto the basics of customization...
CUSTOMIZATION
Time to get the look and feel down. Customization starts with choosing a theme. A theme is what helps your site with placement of photos, colours and fonts. If you like the default theme then there is no need to search and try a variety of themes.
CHOOSE A THEME
1. Look for free themes first. There are many great, free themes to choose from. After your site goes "live" it will open up to a page that looks like this photo:
Scroll down to the bottom, left hand side and
click on WP ADMIN

. This will take you to a screen that is essentially the back end of your site. It doesn't hurt to explore through all the settings. WordPress is all about exploration and self discovery!
2. Next click on
"APPEARANCE"

on the left side bar and then choose

"THEMES"

from the drop down menu. This will open up a variety of themes to choose from. Here you can select from free themes or once again upgrade to a premium theme. Choose for user ease and look for the most you can get out of a free theme. Remember, simple is best when it comes to the cleanliness of a site. If you start to look to jumbled, users get overwhelmed and won't read on.

We settled on the "SKETCH" theme for THAT SEVENTIES TOW.
3. Customize your theme. The easiest and quickest way to make the theme more for you is to be able to view the changes as you work on them. The theme customizer allows you to experiment and view your changes before you save them. Start top to bottom on the customizer menu. Review your site title, add a tagline and go from there. If you have a logo, by all means upload it!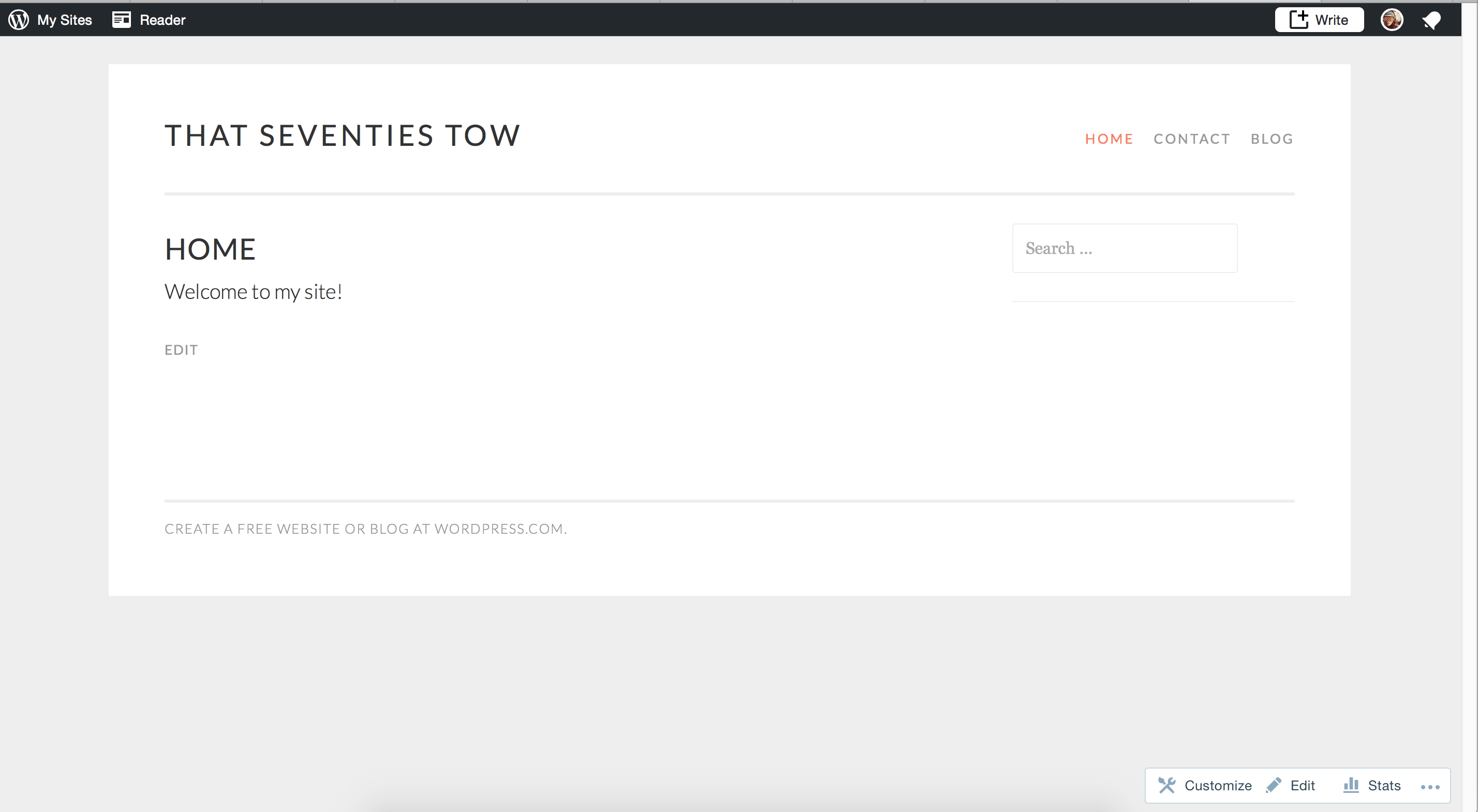 WE hope this is enough to get you started! Doing up a website need not be overly difficult. Explore all the settings, familiarize yourself with the back end and never be afraid to ask for help and visit the forums. And of course, look for WordPress 101 - Marketing Your Wheels Off PART 2 on March 8th, where we guide you through setting up your pages, menus, connecting social media and of course your Wheel Estate listing page for your transactions.